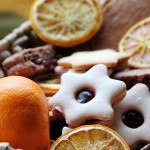 I imagine that Charles Dickens would be disappointed in me because I've never been a good keeper of Christmas as an adult. The winter-holiday season always brings a low-key melancholy, and it's grown worse in the last few years. After losing my mother in 2008 and my sister in 2012, I often focus on the past when the holidays arrive.
I'm living this year in 1965, when we loaded into our beige Dodge Coronet and drove the 100-plus miles from our suburban home just south of Dayton to Portsmouth. Route 73's hilly, winding path upset my stomach as usual, but I didn't care. I chomped on the Doublemint gum Mom dispensed and focused on reaching my grandparents' house.
An invisible but agreed-upon line divided the back seat between my four-year-old brother and me on my seventh Christmas Eve. Not even the thought of my sister had yet graced our family.
We traveled in the dark after my parents got home from work on that cold Friday night, bundled up in our winter coats, approaching the trip with the solemnity of a religious pilgrimage. My mother needing to spend the holiday with the parents with whom she didn't get along. The sound of the studded tires beating the road. "O Little Town of Bethlehem," "O Holy Night," "O Come All Ye Faithful" floating out of the radio. I reflected on the magnitude of Jesus' birth and how his family–both earthly and Heavenly–loved and protected him. News reports of Santa's progress around the world interrupted my contemplation at the top and bottom of the nearly three hours our journey took. Once or twice I dared to peek into the sky for a chance of seeing the jolly old elf, although the thought of actually spotting him frightened me. Then I watched my parents' silhouettes as they turned to look at each other from time to time and whispered secrets.
I resisted sleep, my thoughts always returning to how much I loved Nanny and Pa and the magic of their little ranch-style home. I knew that already waiting for me on the end table in the living room were tangerines and Italian wedding cookies, both my favorites, treats that my grandparents–born to poor families in Appalachia–may never have tasted on Christmas when they were kids. But these special people always stocked the delights for me (and for my brother) every year. I knew Pa would crack open walnuts while telling me stories of America's Old West later that evening, and I'd go to bed in my grandparents' home feeling safe and secure, the clock on the wall ticking me to sleep.
The next day we woke up to biscuits and bacon gravy and Santa's special deliveries: a brunette Chatty Cathy, who looked a bit like me but didn't talk as much as I, and a shiny new medium blue push-pedal sedan on which my brother would allow me to help him put many miles in the coming years while we traveled to wherever our dreams could carry us, as long as we stayed in the driveway.
I know those were the gifts we received that year only because I've seen them in pictures, the doll sitting alone in the sedan, waiting to head off to an unknown adventure.
Otherwise, the only clear memories I carry of that Christmas Day are the brilliant hue and sweet tanginess of a perfect tangerine, the delicate powdered sugar of the Italian wedding cookies melting on my tongue, the smiling faces of my grandparents, their belly laughs, their loving arms holding me tight, and the knowledge that I was cherished just because I was me.
When I close my eyes and think really hard, sometimes I can feel my grandparents' arms around me, still.